What is divorce?
A decree of divorce dissolves a marriage and allows each party to remarry.
Can I apply for a divorce?
Before a court can grant a divorce, the following conditions must be met:
the parties must have been married and living apart for a period of 2 years
there must be no reasonable prospect of reconciliation and
proper arrangements must have been made or will be made for the spouse and any dependent members of the family.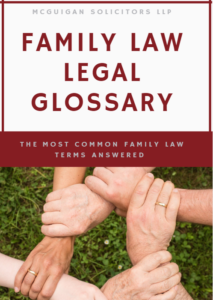 Can other matters be dealt with at the same time?
Yes. Additional (ancillary) orders can be applied for in the process of divorce. They are similar to the orders that can be applied for in the process of judicial separation and include custody and access to children, the payment of maintenance and lump sums, the transfer of property and the extinguishment of succession rights. If a pension adjustment order is required you must secure a court order to bind the trustees of the scheme.
Where a decree of judicial separation was obtained prior to an application for divorce the court can review the arrangements made in the decree of judicial separation when considering the application for divorce.
How long will it take for my application to be heard?
It is impossible to give an accurate answer to this question. There are time limits set out in the court rules for the various stages of the case. Case progression will help ensure speedy progress and adherence to time limits. However, you may have to wait until a judge is available to hear your case. It is therefore very unwise to make any arrangements (for example, re-marriage) that are dependent on your getting a divorce by a particular date.
What are your next steps?
If you have a potential family law case you want to speak about, you should chat to Aine McGuigan, or a member of McGuigan Solicitors LLP. To get in touch please either fill out the contact form at the bottom of this page or call (0)49 952 9986 (Cavan office) and (0)1 441 1457 (Dublin office).