What is custody?
Custody is the right of a parent to exercise physical care and control in respect of the upbringing of his or her child on a day-to-day basis. The married parents of a child are automatically joint guardians and custodians of their child.
What happens when married parents separate?
Where married parents have separated or divorced, they can decide between themselves on custody arrangements for their children. If they cannot agree, they may try to work out an arrangement through mediation but if that fails they must apply to the court for a final decision.
What is the position where the parents are not married?
Where children are born outside of marriage the mother has an automatic right to custody. A father who is not married to the mother of his child can apply to the court for custody in the absence of agreement. It is not necessary for a father to have guardianship rights before he applies for custody.
If an unmarried mother does not want custody of the child and intends to place or has already placed the child for adoption, the unmarried father may still apply for custody.
Can other people apply for custody?
Yes. The following may apply for custody;
a person who is a relative of a child or
a person with whom the child resides if that person is or was married to, or in a civil partnership with, or has cohabited with the parent of the child for a period of at least three years and has shared the day-to-day care of the child for at least two years or
a person with whom the child resides and who has had the day-to-day care of the child for a continuous period of not less than 12 months and the child has no parent or guardian who is willing or able to exercise the rights and responsibilities of guardianship in respect of the child.
A person who is a guardian and who does not have custody (jointly or otherwise) or from whom custody of the child has been taken can apply for custody order under section 11 of the Guardianship of Infants Act 1964 (as amended).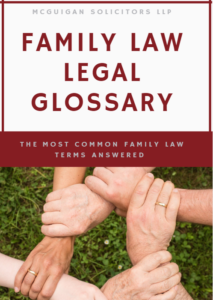 What is Access
Access is contact between a child and its parent or other relative with whom the child does not live. It can be physical in the sense of the child seeing their parent or relative in person or it can be by means of a letter, telephone or other form of electronic communication. It can also mean having the right to visit and spend time with a child and to take them out for an agreed length of time.
What happens when parents separate?
When parents of a child separate they can make informal arrangements so that the other parent can have access to their child on a regular basis without having to go to court.
Where the parents cannot agree to an informal arrangement, either parent can ask the court to decide which parent will have custody of the child and what access the other parent will have.
Who can apply for access?
An unmarried father can apply for access whether or not he is a guardian. He can do this even if his name is not on the the child's birth certificate, or where his application for joint guardianship has been refused.
The Children Act, 1997 gives any person related to the child by blood or by adoption, such as grandparents, the right to apply to the District Court for permission to apply for access. This could also apply to a partner or spouse of the child's mother or father who may have lived with the child and acted (in loco parentis) in the place of a parent. Parents or relatives of a child in the care of TUSLA (the Child and Family Agency) can also apply for access.
What are your next steps?
If you have a potential family law case you want to speak about, you should chat to Aine McGuigan, or a member of McGuigan Solicitors LLP. To get in touch please either fill out the contact form at the bottom of this page or call (0)49 952 9986 (Cavan office) and (0)1 441 1457 (Dublin office).